Experts ski boots...
VACUUM FIT
The global innovation - the first ski boot that really has a 100 % fit!
Fischer VACUUM FIT technology makes it possible for the first time to have a completely anatomical fit of the entire boot in a quality that was previously unattainable.
The basis for this is the new, patented Fischer VACU-PLAST material.
The easy adjustment procedure which is comfortable for the customer takes only 20 minutes and offers an extremely reliable and stable result. The material can be reshaped up to five times.
Thanks to Fischer VACUUM FIT, Fischer competence partners can guarantee their customers a 100 % perfect fit.
SOMA-TEC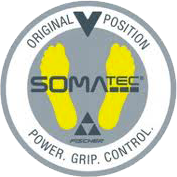 Boots are different to conventional ski boots because of a unique stand position of the feet on the skis.
The natural, offset V-position of the feet is retained and the body's centre of gravity lies directly above the middle of the ski. This means you have perfect power transfer, optimum grip and absolute precision.